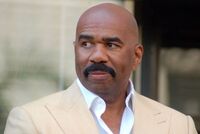 Broderick Steven "Steve" Harvey (born January 17, 1957) is an American comedian, television host, radio personality, actor, and author. He hosts The Steve Harvey Morning Show, Steve Harvey, and Family Feud. He is the author of Act Like a Lady, Think Like a Man, which was published in March 2009, and the book Straight Talk, No Chaser: How to Find and Keep a Man.
Harvey starred in The Steve Harvey Show and he was featured in The Original Kings of Comedy. He also hosts the Steve Harvey Project on an extended cable channel.
Background
Edit
Steve Harvey discovered Auntie Fee in 2014 and had her as a guest on his show Steve Harvey twice.
Ad blocker interference detected!
Wikia is a free-to-use site that makes money from advertising. We have a modified experience for viewers using ad blockers

Wikia is not accessible if you've made further modifications. Remove the custom ad blocker rule(s) and the page will load as expected.